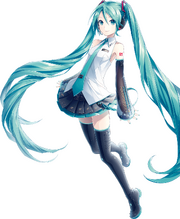 This is a bio for Hatsune Miku. This is fanmade and not to be taken seriously, nor has to be agreed with
Full Name: Hatsune Bacharune Miku
Birthplace: Sapporo, Hokkaido, Japan
Age: 16
Story: Hatsune Miku began music at the age of 11. As she traveled around the world, she learned a lot of instrumets, such as, but not limited to, Guitar, Piano, Shamisen, Koto, Shakuhachi, Shinobue, Erhu, Sanxian, Lute Guitar, Balalaika, Snare Drum, Rock and Roll drum, Taiko,Kakko and Tsuzumi Drum, Violin Family, Gong, Garmoshka(Accordion), Darbuka and Bass Guitar. She has a very big talent for music and can learn any instrument or song fast. She also loves to sing. Infact, singing is her passion. Hatsune Miku also loves all kinds of genres of music. She is also very intelligent and selfless, having an IQ of 129 and gives alot of the money she makes to charity. She has preformed with many Artists around the world, including, but not limited to, Gack-t, Wagakki, Scandal, Shourinka, Hirose Kohmi, Mikhail Smirnov, etc. She has 3 brothers and 3 sisters, all musicians. Her favourite vegetable is spring onion, which she is synonymous with. In her freetime, she loves to hang out, play music, play videogames and enjoy herself
Did you know that...
Edit
Her first and last names, Hatsune Miku, are a combination of the name Hatsune, Hatsu (First), Ne (sound) and Miku (future), which translates to First Sound of the Future. Her middle name, Bacharune, is a combination of Bacharu (Virtual) and Ne (sound), meaning virtual sound.
Hatsune Miku is left Handed
She has been all around the world and has experienced every possible genre of music
Hatsune Miku does not date. She likes to keep things professional
She first got introduced to music when she saw an old lady playing Shamisen and singing and asked her to teach her how to play and sing. She first got a Shamisen when she was 11 and learned how to play quickly. Then she first got an Acoustic Guitar when she was 12 and learned how to play many different genres on it, from Spanish to Mideastern to Vietnamese. Then she got an electric guitar and learned how to play rock music. She still hasn't given up the traditional ways though and she went on to make many songs and learn more insteuments.
She went through Geisha training when she was 13 and was an honourary Geisha by age 14.
Hatsune Miku has a Ramen recipe dedicated to her. It includes picante Chicken Flavoured Maruchan ramen with Cilantro, Salt, Siracha Sauce, Sesame Oil and Sesame seeds, and especially Spring Onion
She Hates Politics
She does not believe in banks.
Her birthday is August 31